︎ 51 _Editorial object-care cards


︎ [English below]




Editorial object : collaborative project led in Fleury-Mérogis women prison
Authors : Sophia Achouri, CS, Droite, Eliza, Farah, Gauche, Gitane, Italianka, Lisa Trinchese, Maria, PJ, Sabrina, SL
Project holders : Jules Ramage and Marina Ledrein
Editorial management and design : Jules Ramage / Co-creation of content, tooling and meetings in the field : Corinne Dutheil, Daisy Lambert, Marina Ledrein, Ingrid Liavaag, Margot Mourrier Sanyas, Jules Ramage, Johanna Rocard / Pre-modelling, editorial researches : Daisy Lambert, Marina Ledrein, Margot Mourrier Sanyas, and all the authors / Proofreading : Marina Ledrein, Margot Mourrier Sanyas / Print design : La Martiennerie


Initialement intitulé Faille(s), le projet _51_ est pensé en deux chapitres.

A l'été 2022, un groupe de travail se constitue à la maison d'arrêt des femmes de Fleury-Mérogis à l'invitation de Julie Ramage : femmes détenues, chercheuses spécialisées dans les questions de genre et la linguistique queer, artistes sont invitées à collaborer pendant 2 mois. Marquées par la sur-médicamentation à laquelle elles sont soumises, les participantes souhaitent explorer les techniques de soin et d'auto-soin qui s'élaborent et circulent à l'intérieur des murs. Des cartes d'entraide sont élaborées à partir de ce corpus d'objets, de gestes, de modes d'emploi, de chansons qui témoignent de pratiques de micro-résistance quotidiennes liées aux relations de sororité, d'amour et de sexualité.

Les remèdes proposés suggèrent, en creux, la violence du système pénitentiaire. Le choc carcéral s'imprime eneffet directement dans les corps : perte des dents, perte des cheveux, aménorrhées, irritations cutanées sont parmi les symptômes les plus courants. La prescription massive d'anti-dépresseurs et d'anxiolytiques, qui constitue la réponse de l'administration pénitentiaire, est à son tour responsable d'effets secondaires particulièrement problématiques. Contre la circulation des molécules chimiques, se met en place un circuit d'échanges de gestes, d'objets et de fluides (les larmes, le sang menstruel, l'encre), mais aussi de mots, à travers les notes clandestines, les lettres d'amour, de soutien et de sororité, les livres, pour la plupart issus de la littérature transféministe.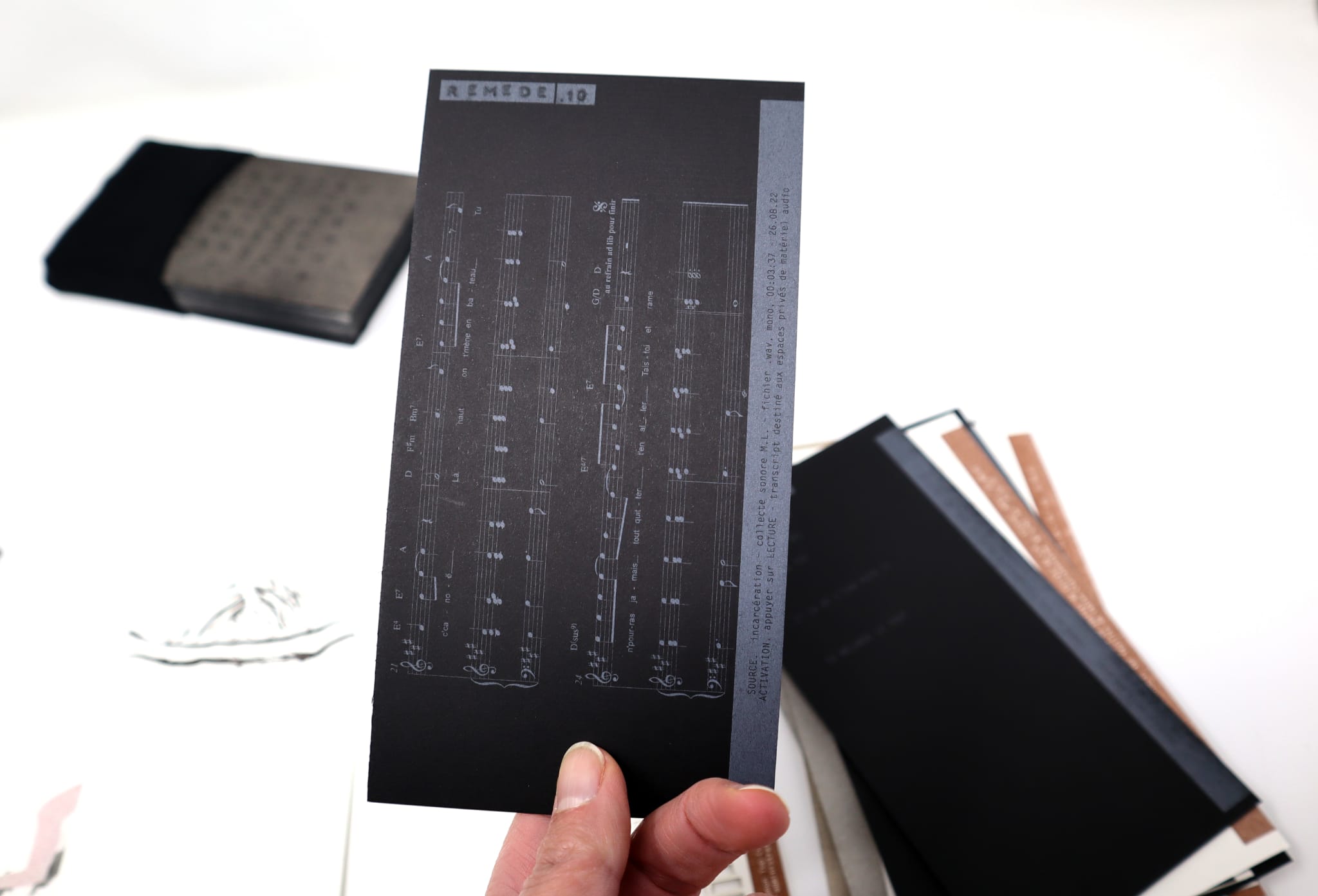 ︎ [English version] ︎


Initially titled Faille(s), the _ 51 _ project is divided into 2 chapters.

In the summer of 2022, a working group is set up at the Fleury-Mérogis women's prison at the invitation of Julie Ramage : female prisoners, researchers specializing in gender issues and queer linguistics, artists, writers are invited to collaborate for 2 months. Marked by the over-medication to which they are subjected, the participants wish to explore the techniques of care and self-care that are developed and circulate within the walls. Mutual aid cards are drawn up from this corpus of objects, gestures, instructions for use, songs... which bear witness to daily micro-resistance practices linked to sisterhood, love and sexuality relationships.

The proposed remedies implicitly suggest the violence of the penitentiary system. Psychic choc due to the incarceration process is indeed imprinted directly on the body : loss of teeth, loss of hair, amenorrhea, skin irritations are among the most common symptoms. The massive prescription of anti-depressants and anxiolytics, which constitutes the response of the prison administration, is in turn reponsible for particularly problematic side effects. Against the circulation of chemical molecules : gestures, objects and fluides (tears, menstrual blood, ink), but also words, through clandestine notes, love letters, support and sorority books.